Tomorrow is Take Back Your Time Day.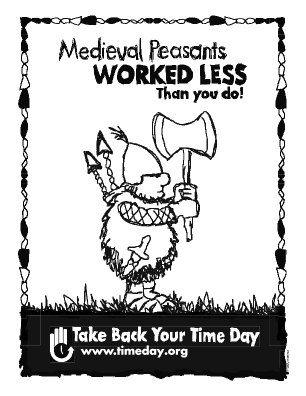 This day is scheduled 9 weeks from the end of the year, which is the number of extra weeks worked by Americans vs. our European counterparts.
Remember, the Europeans are often held up as better than us because they are thinner, live longer, have less disease, smarter kids, blah blah blah. Gee, do you think these things – time spent working vs. the long list of what is wrong with Americans – might be related?
This year, the Take Back Your Time people are encouraging us to take "4 windows of time" between October 24 and the first of the year to do something meaningful for yourself, your family, or your community. For instance, you could take a day off to chaperone your kids class trip to the Pumpkin Patch (Grandpa Vern did this for me in Kindergarten and it is one of my favorite childhood memories!) You could take election day off and spend a little time studying the issues so you can vote your beliefs rather than doing the quick "partyline" thing. Then, you could reward yourself with a stroll through the public gardens, a trip to the libraray, a drive down a scenic highway, or whatever other community service you voted to continue to fund.
I actually started thinking about windows of time a little earlier than Timeday, and I've decided to journal about the things I am doing that are intentionally mindful about taking care of myself, my community, and my relationships. I also hope that the things I am doing to take back my time will result in me being a more productive and positive influence at work rather than the frustrated and negative employee I have been the last 5 years.
It is a grand experiement. Let's see how it goes.